Listen to 2 Interviews with Shahram Shiva
on Universal Energy Radio with Host Anna Banguilan

...




Shahram Shiva is a performance poet, award-winning translator
and scholar of Rumi, author of several books, teacher of
advanced spirituality and a recording artist. He is known for
rich and entrancing concerts and performances.
He also conducts talks and lecturers on the
future of spirituality, consciousness expansion, vision manifestation,
and freeing the mind from the bondage of dogma and other methods of control.
He has been called a "prophet of change and transformation."

Contact & Booking
info@rumi.net

Music Publishing
Racing Shiva Records
info@rumi.net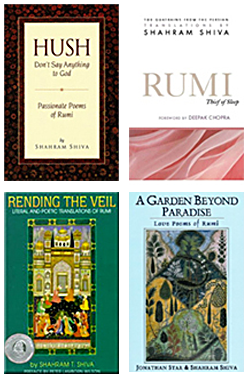 NEWS:
>> August 21, 2014, Watch a Talk Show Interview with Shahram Shiva on Actors Entertainment with host Kim Estes. A Pepper Jay Productions.
http://www.ustream.tv/recorded/51670005
>> August 2014, An Interview with Spirituality Teacher Shahram Shiva by Eliza Gales Interviews

>> Los Angeles, Aug 2014 - Shahram Shiva is conducting a tour of Los Angeles area. Please visit our EVENTS section for more info.
>> Los Angeles, May 2014 - Shahram Shiva's celebrated new album LOVE EVOLVE is on the Newswire: "New Album by #Rumi Expert, Shahram Shiva Blends Chill-out and Dance Music with #Yoga and Spiritual transformation."
UPCOMING EVENTS:

RADIO INTERVIEW on WRPI
August 7, 2014

Radio Show

In The Spirit


Host

Gary Goldberg

Date & Time

Thursday, August 7, 2014, 2:00 PM Eastern US, 11AM Pacific, 20:00 CET, 19:00 GMT.
Topic
New Songs from the CD "Love Evolve" & Soul Evolution Discussion
Coverage Area
Live global broadcast also on the web at www.WRPI.org. In Southern Vermont, Western Massachusetts and Eastern New York set your dial to 91.5 FM.

Information

A frequent guest on "In The Spirit" we are happy to welcome Shahram Shiva once more. Listen to In The Spirit program on WRPI Radio, hosted by Gary Goldberg. You can also listen to the broadcast in real time on WRPI.org.
THE FUTURE OF SPIRITUALITY
August 15, 2014

Title

The Future of Spirituality an Evening with Shahram Shiva

Event

Talk, Transmission & Rumi Poetry

Venue




Mystic Journey Bookstore, Venice, CA

Date & Time

Friday, August 15, 2014, 7-9PM

Tickets

Contact Mystic Journey at 310.399.7070

Information
MOTIVATIONAL CHAT
August 21, 2014

Title

Discussion with Shahram Shiva.

Event

Talk, Inspiration on Motivational Chat

Venue


Motivational Chat - Actors Entertainment

Date & Time

Thursday, August 21, 2014, 10-11AM PT, 1-2PM ET and 19:00-20:00 CET

Website

www.ActorsE.com

Information

Motivational Chat is a content-driven conversation between Shahram Shiva and host Kim Estes about motivational topics, techniques and tools – our mission is to empower the viewer to raise their consciousness, think outside the box, set & achieve their goals, increase their prosperity, positivity, well being and passion for living their dreams.
THE FUTURE OF SPIRITUALITY
September 6, 2014

Title

The Future of Spirituality an Evening with Shahram Shiva

Event

Talk, Transmission and Guided Whirling Workshop

Venue




Learning Light Foundation, Anaheim, CA

Date & Time

Saturday, Sept 6, 2014, 7-9PM

Tickets

Contact Learning Light at 714.533.2311

Information
THE FUTURE OF SPIRITUALITY
October 17, 2014

Title

The Future of Spirituality an Evening with Shahram Shiva

Event

Talk, Transmission, Rumi Poetry and Guided Whirling Workshop

Venue




Awakenings Center, Laguna Hills, CA

Date & Time

Friday, Oct 17, 2014, 7-9PM

Tickets

Contact Awakenings Center 949.457.0797

Information
THE FUTURE OF SPIRITUALITY
November 14, 2014

Title

The Future of Spirituality an Evening with Shahram Shiva

Event

Talk, Transmission & Rumi Poetry

Venue




Center for Spiritual Living, Westlake Village, CA

Date & Time

Friday, November 14, 2014, 7-9PM

Tickets

Contact CSL WL at (805) 495-0105

Information