Listen to 2 Interviews with Shahram Shiva
on Universal Energy Radio with Host Anna Banguilan

...




Shahram Shiva is a performance poet, award-winning translator
and scholar of Rumi, author of several books, teacher of
advanced spirituality and a recording artist. He is known for
rich and entrancing concerts and performances.
He also conducts talks and lecturers on the
future of spirituality, consciousness expansion, vision manifestation,
and freeing the mind from the bondage of dogma and other methods of control.
He has been called a "prophet of change and transformation."

Contact & Booking
info@rumi.net

Music Publishing
Racing Shiva Records
info@rumi.net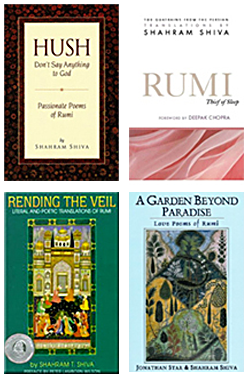 UPCOMING EVENTS:

RADIO INTERVIEW on WRPI
August 7, 2014

Radio Show

In The Spirit


Host

Gary Goldberg

Date & Time

Thursday, August 7, 2014, 2:00 PM Eastern US, 11AM Pacific, 20:00 CET, 19:00 GMT.
Topic
New Songs from the CD "Love Evolve" & Soul Evolution Discussion
Coverage Area
Live global broadcast also on the web at www.WRPI.org. In Southern Vermont, Western Massachusetts and Eastern New York set your dial to 91.5 FM.

Information

A frequent guest on "In The Spirit" we are happy to welcome Shahram Shiva once more. Listen to In The Spirit program on WRPI Radio, hosted by Gary Goldberg. You can also listen to the broadcast in real time on WRPI.org.
THE FUTURE OF SPIRITUALITY
August 15, 2014

Title

The Future of Spirituality an Evening with Shahram Shiva

Event

Talk, Transmission & Rumi Poetry

Venue




Mystic Journey Bookstore, Venice, CA

Date & Time

Friday, August 15, 2014, 7-9PM

Tickets

Contact Mystic Journey at 310.399.7070

Information

Join renowned performance poet, Rumi expert, author, recording artist and teacher of advanced spirituality Shahram Shiva for a transformative and magical evening that will expand your mind, rock your soul, speed up your evolution and take you to a place beyond right or wrong.

Shahram Shiva, will teach you about:
What Comes after Yoga.
The Next Level of Spirituality.
Consciousness Expansion.
His 4 levels of soul evolution.
The yoga of the mind.
Where you are in your own evolution and what is next for you.
The universe's unlimited and infinite love and support for you and how to tap into it.
Vision Manifestation and how to get exactly what you want plus Rumi poetry and more...

Musicians

N/A
THE FUTURE OF SPIRITUALITY
September 6, 2014

Title

The Future of Spirituality an Evening with Shahram Shiva

Event

Talk, Transmission and Guided Whirling Workshop

Venue




Learning Light Foundation, Anaheim, CA

Date & Time

Saturday, Sept 6, 2014, 7-9PM

Tickets

Contact Learning Light at 714.533.2311

Information

Join renowned performance poet, Rumi expert, author, recording artist and teacher of advanced spirituality Shahram Shiva for a transformative and magical evening that will expand your mind, rock your soul, speed up your evolution and take you to a place beyond right or wrong.

Shahram Shiva, will teach you about:
What Comes after Yoga.
The Next Level of Spirituality.
Consciousness Expansion.
His 4 levels of soul evolution.
The yoga of the mind.
Where you are in your own evolution and what is next for you.
The universe's unlimited and infinite love and support for you and how to tap into it.
Vision Manifestation and how to get exactly what you want plus Rumi poetry and more...

Following tonight's event, Shiva will guide the group into an ecstatic whirling experience through his own unique and proven method.

Musicians

N/A